In this series, our employees talk us through their roles and the challenges they encounter. Now, It's Thomas's turn to tell us more about his job.
Production Workshops Manager Thomas explains the nuts and bolts of his job.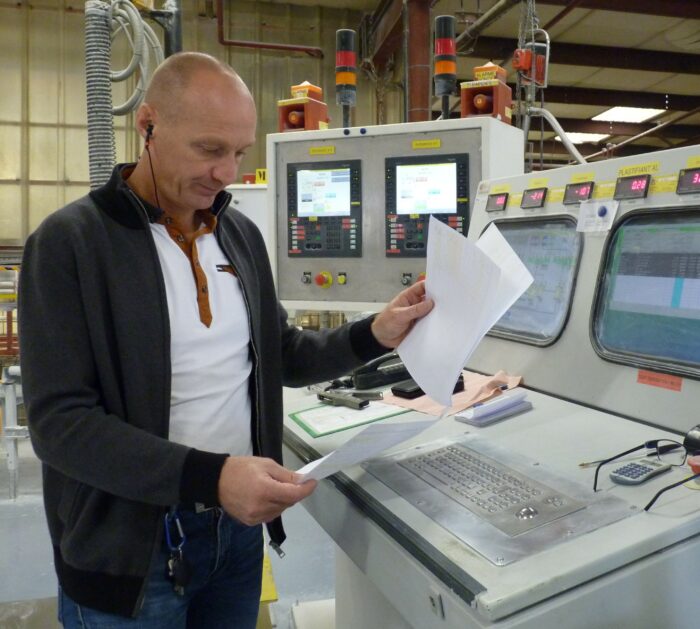 Could you please tell us about your background?
My name is Thomas Petit and I was born in Vitry-Le-François. After gaining a vocational training certificate as a specialised line operator, I had the opportunity to join Champagne viande and then JST, where I worked for six years.
In 2007, I joined Tricoflex as a setter. My responsibilities involved working on machines such as the Balzanelli and contributing to their development.
After four and a half years as a setter, I progressed to team leader. This position requires in-depth skills and considerable responsibility. In order to supervise my team on a day-to-day basis and achieve the targets set, I had to learn to identify the personality of each member of my team so that I could assign them the tasks that best matched their skills.

I held this position for six years, before being promoted to workshop manager. Being a workshop manager has proved extremely interesting, because every day is different and there's no time for routine.
How would you describe your job, and what are your responsibilities?
Safety is my absolute priority. I identify and list all the risks we observe, and then these are ranked from most to least risky in the form of points according to their probability and seriousness, updating this assessment daily.
My other priorities are productivity, planning and keeping to the schedule: as far as possible, I have to meet the deadlines set by the customer in the schedule drawn up. It's also important to minimise waste and ensure that there are no errors in the tooling required to manufacture the product.
I supervise my team and train them according to the skills required, staffing needs and new production lines. I work with maintenance to resolve breakdowns and optimise downtime.
What other aspects do you have to take into account to ensure good management within your team?
On each production line, I record breakdowns and monitor them on a daily basis. My aim is to keep my team members on board. That's why it is vital to take a step back, be respectful and diplomatic. Dialogue and feedback are essential.
Do you interact with other departments?
I interact with the maintenance, quality, and development departments because it is crucial to share as much information as possible. We hold a weekly meeting to deal with problems encountered on the line and to plan the following week by addressing specific issues (organisation, planning, and logistics).
When I need to assess purchases or requirements for external equipment or staff, I call on the appropriate departments. I also work with the Materials Planning Coordinator, whose role is to manufacture our raw materials, respecting production lines, deadlines, and reasonable quantities.
What skills and qualities do you need?
You need to be organised, rigorous, and diplomatic. In terms of skills, a sound knowledge of extrusion and plastics processing is essential.
What aspects of your job do you enjoy most?
My manager trusts me and lets me work independently.
If you had to sum up Tricoflex in a few words, what would you say?
If I had to describe Tricoflex in a few words, I would choose: potential and circularity. Tricoflex is a company with potential that is striving to implement a circular approach to production.
Do you have any passions outside Tricoflex?
I'm very interested in sport. I used to play football, but now I've turned to running. Outside sport, I'm into mechanics, in particular repairing small Bernard engines.