In this series of interviews, our employees tell us about their jobs and the challenges they face. Adrien Martinez talks about his career at Tricoflex
Adrien, QHSE* Manager, tells us more about his job.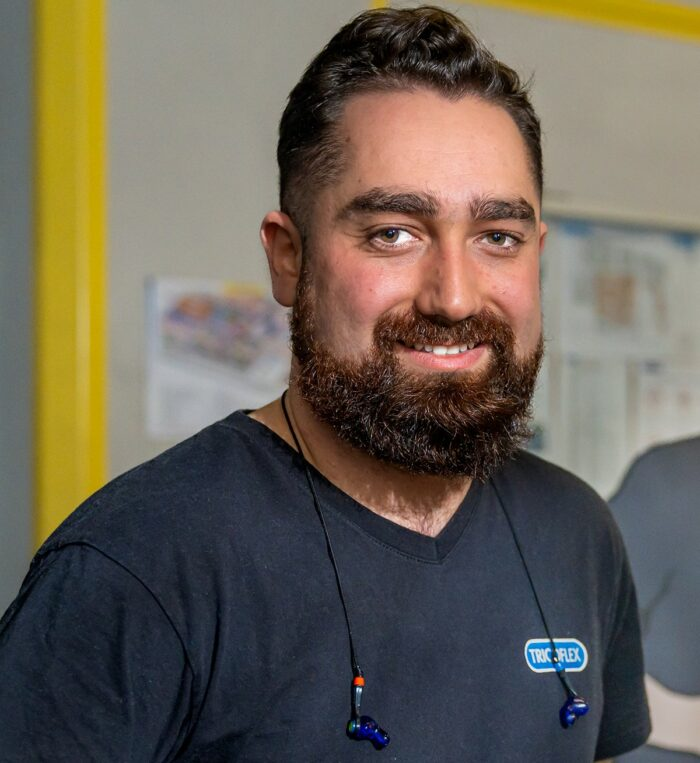 Can you introduce yourself and tell us about your background ?
My name is Adrien Martinez, and I was born in Vitry-Le-François, like Tricoflex.
During my studies as a chemical engineer at ENSCMu* (École Nationale Supérieure de Chimie de Mulhouse), a French engineering College, I enjoyed a Year in Industry at Sabic, one of the leaders in polycarbonate thermoplastics. I worked as an assistant R&D project manager, giving me insight into extrusion and all the stages involved in pellet manufacture. In my final year, I specialised in industrial risk, adding an HSE touch to my general education.
After graduating, I joined Tricoflex as an Assistant HSE Manager, working under the HSE Manager. He taught me how the machines worked, which helped me broaden my knowledge and fit in better.
Then, I was given the opportunity to take my career to the next level and was promoted to QHSE Manager at the age of 26, which shows the great trust placed in me by management.
What does your job involve ?
To do my job, I have to wear several hats:
Quality: Our priority is to satisfy our customers by guaranteeing a product that meets their requirements and on-time delivery. Thanks to the recommendations made by our customers, we can establish areas for improvement. Surveys and questionnaires are tools that we use to improve customer satisfaction.
Hygiene: In the plastics industry, requirements are fairly standard, except during the coronavirus outbreak when special measures had to be taken.
Safety: Tricoflex must offer its employees the best working conditions in terms of safety, health, and environment. We manage and prioritise how risks are dealt with. We also ensure that all production equipment and tools comply with regulations.
Environment: We ensure that Tricoflex's activity does not harm the surrounding businesses and buildings.
The role of the QHSE team is also to instil a new environmental and ecological culture. Indeed, Tricoflex has been contributing to sustainable development by recycling its plastic waste for many years and moving towards circular design.
What do you like about your job ?
There is a great cohesion within my team and good synergy with the other departments. We are all committed to customer satisfaction and maintaining a high quality of working life. That is how we ensure the company's long-term future.
Plus, Tricoflex is a human-scale company, and it's a pleasure to know just about everyone.
Which other departments do you work with ?
I work with all departments, but mainly with:
Production, to check the conformity of our products. If there is a problem, I have to understand where it comes from and find a solution.
Logistics, which we work with to ensure that products are dispatched on time.
The R&D and Sales departments, which we support in order to guarantee customer satisfaction.
Which skills do you need ?
You need to be at ease with IT tools and be able to analyse risks using methods such as FMEA* (Failure Modes, Effects, and Criticality Analysis). You need to have in-depth knowledge of the plant and be curious.
I also think you have to be pragmatic, a good listener, diplomatic, and above all, you must be impartial. When a decision has to be made on quality or safety, each department has its argument. When there are disagreements between the various parties, we must arbitrate, and remain neutral. We have to consider everyone's opinions and be as fair as possible without being influenced.
How do you organise your team, and how do they help you in your day-to-day work ?
My team and I hold weekly meetings during which we divide up the tasks. There is a planning part with different actions for each person.
Outside work, do you have any hobbies or passions ?
I think there is a similarity between my work and my hobbies.
I'm a big soccer fan. For several years, I played as a defender for my club, a position that reflects my personality to some extent. My role as a defender is to keep my team together in the face of the unexpected. From my position, I have an overall view of the situation on the pitch and the organisation of the group.
Curious by nature, I love learning new things and discovering new worlds through movies. That is how I taught myself to play the guitar.
These hobbies are important as they allow me to detach myself from work and develop new skills.
*QHSE: Quality, Health, Safety & Environment
*ENSCMu : the National College of Chemical Engineering based in Mulhouse
*FMEA: A risk management tool that assesses the severity, occurrence, and probability of detection of risks, prioritizing those that are most urgent.